Join SKYTREE® YOGA to keep your body and mind healthy at this "Sacred Place of Yoga"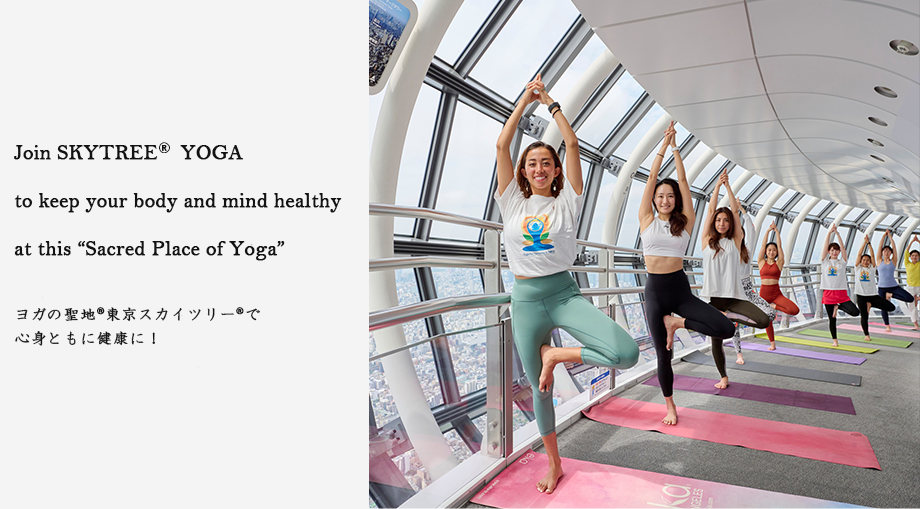 On the International Day of Yoga in 2021 (June 21), The Yoga Organization of Japan recognized TOKYO SKYTREE as a "Sacred Place of Yoga"!
The practice of yoga enhances health and well-being through breathing, meditation, and poses that balance the mind and body. Doing yoga on the observation deck of TOKYO SKYTREE, gazing far out over the city, holds great potential to settle the mind and harmonize the energies in the body.
With its recognition as a "Sacred Place of Yoga", TOKYO SKYTREE aims to attract many people to practice yoga on its observation deck. Since September 2021, monthly "SKYTREE YOGA" lessons has been held in the Tembo Galleria (Galleria deck), marked with an original yoga pose developed and named "SKYTREE Pose".
Why not join in and do some healthy yoga at TOKYO SKYTREE?

In collaboration with the Yoga Association of Japan, SKYTREE YOGA has been held on the 21st of every month at TOKYO SKYTREE in the extraordinary Galleria hall space 450 meters above the ground.
The yoga lesson will focus on basic poses so that even first-timers will not struggle, and those more advanced in yoga can relax and enjoy the experience.
The first poses will relieve the body's stiffness and promote blood circulation. Next, deep breathing will relieve stress and fatigue in your mind and heart.
After aligning mind, body, and spirit, the panoramic view from the SKYTREE will restore your natural kindness and gentleness.
Night View Yoga is an experience unique to TOKYO SKYTREE—enjoy yoga on the Galleria deck with no other visitors present!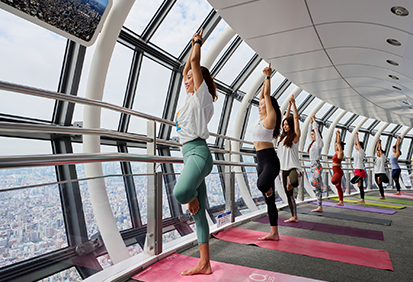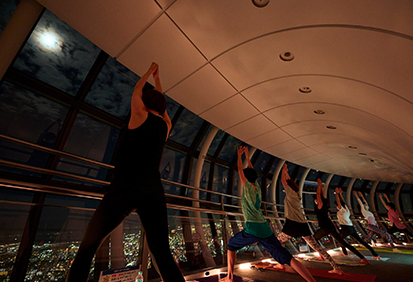 Details of the 18th Yoga Event
■Time and date
April 21, 2023 (Friday) 21:30 p.m. to 22:30 p.m. (Meet at 21:00 p.m.)
* This is a night lesson.
■Venue
TOKYO SKYTREE Tembo Galleria (450m)
* Meeting place: Solamachi Hiroba (Square) on 1F at TOKYO SKYTREE TOWN
* See below on this page for a map and photo of the meeting place under "Lesson Day Procedures".
■Price
4,800 yen (tax included, observation deck ticket included)
■Number of participants
40 (minimum of 20)
■Instructor
Certified Yoga Professional of the Ministry of Ayush Govt. of India
■Precautions
・To prevent infections, no yoga mats are available for loan. Please bring your own mat (or bath towel, etc.).
・There is no place for changing clothes, so please arrive wearing easy-to-move-in clothing.
・Some spots on the deck may be colder or hotter than others, so wearing layers that can be adjusted is recommended.
・Please wear a mask.
・You must be 18 years of age or older.
・The yoga lesson may be canceled due to bad weather, etc. or if the minimum number of participants is not reached.




Entering SKYTREE and Receiving Your Ticket
After the reception, a staff member will guide you to the entrance of SKYTREE.
Please disinfect your hands at the entrance.

After entering, please show on your smartphone screen with the 2D barcode for your purchased ticket.

A staff member will scan the barcode and issue you a ticket.

To the Lesson Area and Preparing for the Lesson
Staff members will guide you to the Tembo Galleria (Galleria deck) at an elevation of 450 meters where the lesson will take place.

After arriving, you are free to stretch and prepare as you wish before the lesson begins.

Start of the Lesson
Now the lesson begins!

Enjoy the yoga lesson with an expansive feeling from seeing the panoramic night view spanning out before you.

End of the Lesson
When the lesson is over in about one hour, please put your things together and get ready to leave.
Don't forget to take a commemorative photo!

Guidance to the Exit and Parting Ways
Once everyone is ready to leave, staff members will guide you to the exit.

Thanks for coming!

Please share your experience on social media ♪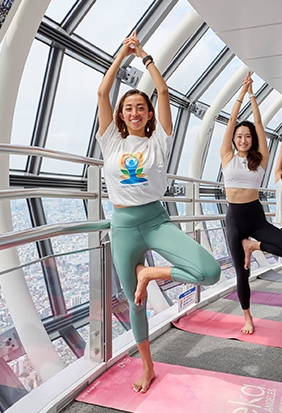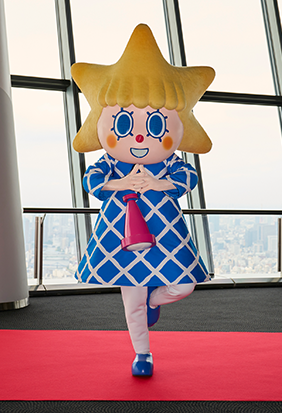 This original pose that represents TOKYO SKYTREE is based on the tree pose (Vrksasana), which symbolizes an elegant tree with firm roots and a trunk that extends up to the sky.
The tree, as part of the name of the pose, is a symbol of community, a place where people gather together.
Also a part of the TOKYO SKYTREE name, the tree also symbolizes gathering under the tree-like tower which stretches into the sky, creating a community space that is friendly to people and the environment—a place where people from around the world can get together and create new culture.
The SKYTREE POSE was created with such ideas in mind.



In 2014, India's prime minister Narendra Modi gave a speech at the United Nations in which he explained how yoga is the ideal means of bringing peace to the world. A proposal to establish an "International Day of Yoga" to be observed on June 21st every year was then adopted with the broad support of the 177 member states, including Japan.
Since 2014, events have been held in countries around the world on or around June 21st, creating a huge International Yoga Day movement.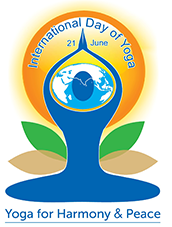 The Yoga Organization of Japan has recognized TOKYO SKYTREE as a place where the practice of yoga can have great effects because it takes place in natural scenery or in a structure that inspires human wisdom or a beautiful environment that harmonizes people. TOKYO SKYTREE meets the organization's criteria for a "sacred place" in these four ways:

・ It offers a quiet environment or place with beautiful scenery that brings mental and physical calm
・Events are held that uphold the intrinsic values of yoga
・It offers an open space where a large-scale yoga event can be held
・ Notable universal values are held within historical, traditional, cultural and artistic perspectives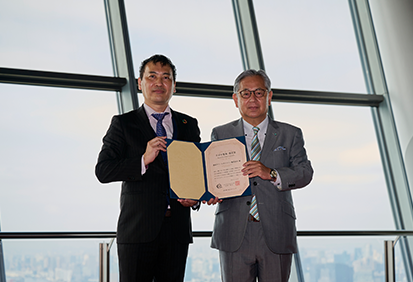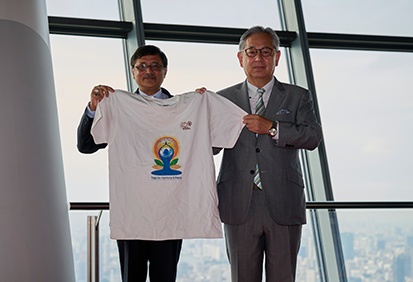 ▲Recognition awarded as "Sacred Place of Yoga"

The objectives of the organization are to maintain a proper understanding of the essence of yoga—a part of the traditional culture of India—and to contribute to people's health through the practice of yoga, spread the philosophy of yoga and a correct understanding of Indian culture, and promote peace. The organization promotes professional yoga certification based on a memorandum of understanding (MoU) with the government of India.
https://yogaorg.jp/