W1SH RIBBON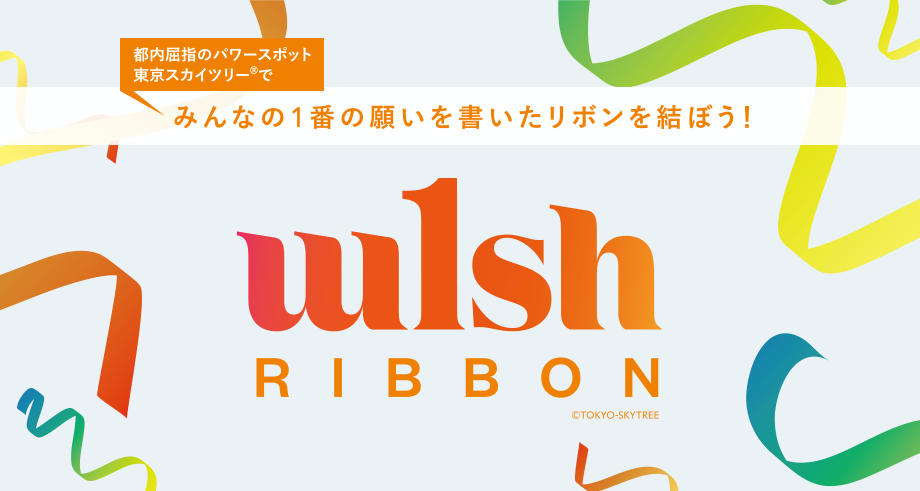 About W1SH RIBBON
W1SH RIBBON is a spot for making wishes, and the spelling of "W1SH" reflects TOKYO SKYTREE being ranked No. 1 in the world for its height. At this special spot, write your No. 1 wish on a ribbon, such as your most fervent wish or a dream you want to fulfill as a team. Then, tie your ribbon to the monument to make your wish come true.
Did you know that TOKYO SKYTREE is said to be one of the most powerful spiritual sites in Tokyo?
Put your strongest wish on a ribbon and tie it to W1SH RIBBON at the world's tallest tower!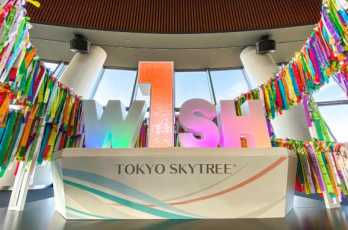 ▲ W1SH RIBBON
1.Buy a capsule containing a colored ribbon and an original item from the capsule toy machine next to W1SH RIBBON.
2.Write your wish on the ribbon.
3.Tie your ribbon to the W1SH RIBBON monument.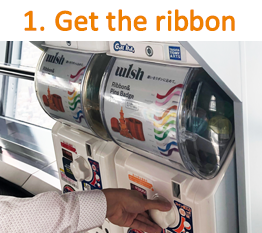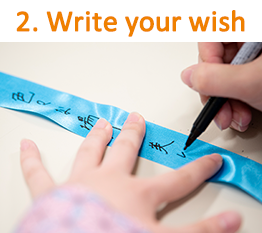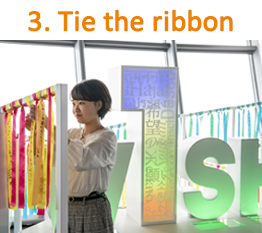 ※You cannot choose the color of the ribbon.
※Take the original item home with you.
※A portion of the capsule sales will be donated to the emergency assistance of medical support activities against COVID-19 operated by Japanese NGO Peace Winds Japan.

The W1SH RIBBON is rooted in Japan's spiritual essence, as TOKYO SKYTREE is considered one of the most spiritual places in Tokyo. Why? Because it runs along a line of spiritually relevant and traditionally important Japanese landmarks. That line begins where the sun rises in Japan, the Kashima Shrine in Ibaraki Prefecture. Kashima Shrine is known as the ultimate site to pray to the god of victory for the strength to overcome obstacles.
Next in the line is TOKYO SKYTREE, which is between Kashima Shrine and the Imperial Palace, the main residence of the Emperor of Japan and his family.
Next is the majestic Meiji Shrine, the most popular shrine to partake in hatsumōde, the first good luck prayer of the year.
Mt. Fuji is regarded as a sacred kami, or spirit, in the Shinto religion, and many consider it an act of pilgrimage to climb its slopes. Japan's sacred history and national identity are tied to this mountain, as it symbolizes the quest for beauty and perfection that has shaped so much of Japanese culture.
This impressive path of positivity and peace is the essence of TOKYO SKYTREE's W1SH RIBBON spot, which builds on this line of spiritual power to spread happiness and harmony to people and our environment.

TOKYO SKYTREE donated part of the revenue from the sale of ribbons for the W1SH RIBBON project to a COVID-19 emergency support program and will continue to donate to the disaster emergency assistance (domestic and international disaster relief with a focus on medical care) of Peace Winds Japan, a certified nonprofit organization.

The total amount of donation through the W1SH RIBBON project from its launch in October 2020 to the end of March 2022 was JPY 1,952,825. The total amount of donation through the project from April 2022 to the end of March 2023 was JPY 3,461,550. Our guests' donations are greatly appreciated. We will make efforts to continue our support activities through this project.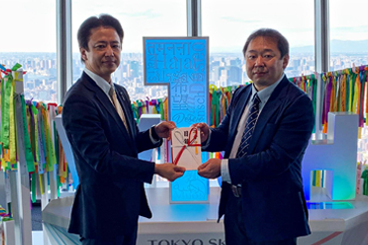 About Peace Winds Japan
Peace Winds Japan (PWJ) is a non-governmental organization (NGO) dedicated to the support of people in distress, threatened by conflict, poverty, or other turmoil. With its headquarters in Japan, PWJ is operational in many parts of the world.
To date, they have been active in 36 countries around the world, operating emergency disaster relief projects and focusing on activities aimed at solving social problems. They are also involved in animal protection and transfer activities aimed at revitalizing local communities and eliminating the killing of dogs and cats.